RTU (Remote Terminal Unit)
Cordell's Model 1000 RTU offers the latest in flexible, intelligent monitoring for contact points (12), an analog input, comprehensive IP management, and access capabilities to sites. The Model 1000 furnishes the capability to cost-effectively manage your remote sites with multiple serial and Ethernet ports. In addition, it has the capability to function as a sub-net (managed switch), eliminating the additional cost of connectivity for other equipment at remote sites.
The Model 1000's ability to provide site alarm monitoring and I/O capacity to passive equipment makes it an intelligent extension of Cordell's C5 Network Management System®. Cordell's RTU family is designed to enhance your network management strategy, reduce costs, and improve operational efficiency. The Model provides a small footprint, and with the input and output connections conveniently located on the front panel, it ensures a simple and efficient installation process. All connectors are removable for easy maintenance. The Model 1000 is powered by a DC input (24vDC or 48vDC), and there is a direct battery backup connection (24vDC) available.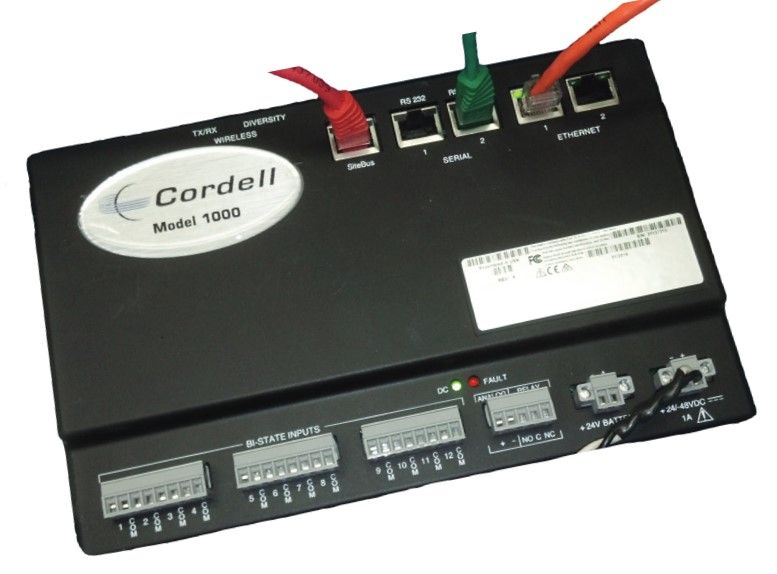 Key Features:
12 Inputs
1 Control Output
Monitor Input to 60vDC
2 Ethernet Ports
2 Async Ports
Analog Input
24 Volt Battery Backup
Stores Data up to 7 days/last 100 alarms
Wall or Cabinet Mounting
SNMP versions 2 and 3
Model 1000 Specs:
Web-based user interface or command line interface
SNMP MIP
SMS
DC Powered
SSHv2/HTTPS/SFTP
Console Port for Local Access

READY TO SIMPLIFY YOUR BUSINESS?
Let's talk solutions created just for you!