Capital Credit
WHO IS ELIGIBLE?
Have you had Rural Telephone Service Company, Inc. dba Nex-Tech landline telephone service with an area code and prefix as charted below? If so, capital credits were likely allocated!
It is important that you understand how the process works. It is equally important that you keep us updated when your situation changes (i.e., address change, divorce, marriage, death of member, business dissolution, etc.) as it can affect our ability to pay allocated capital credits in the future. Be sure to look at the additional tabs under Capital Credits for additional information.
Capital Credits
HOW IT WORKS
Q. Who do I contact?
A. Contact the business office by calling 877-567-7872, ext. 5003, mailing a request to Nex Tech, Capital Credit Department, PO Box 158, Lenora, Kansas 67645 or emailing to capitalcredits@nex-tech.com.
Q. What are capital credits?
A. Rural Telephone Service Company, Inc., dba Nex-Tech is a cooperative, and as a customer you are a member of the cooperative. The members are allocated the profits of the company each year based on their LEC telephone, broadband services, and Nex-Tech Wireless charges. The allocations are then disbursed as the Board of Directors authorizes. Capital credits are a significant source of equity for most cooperatives and finance growth and expansion, construction projects, operating requirements and debt retirement obligations.
Q. What is the difference between allocation and distribution?
A. Allocation is the money added to the capital credit account of customers having active landline telephone service for a specific year. Allocations occur in September – October. Distribution is the Board approved payout for a portion or percentage of the capital credit earned by members and is paid in December.
Q. Why do allocation amounts vary?
A. The allocation amount is determined by company profits, which change every year.
Q. Are capital credit accounts paid out when a member moves out of the service area?
A. No. Account payment occurs only upon the member's death or through the board approved distribution process. As payment of capital credit requires a current address, keep Nex Tech informed if you move out of the service area.
Q. What is the policy for returning capital credits to the member once earned?
A. Capital Credits cannot be cashed in or retired immediately after allocation; they are returned through annual distribution as financial conditions and any applicable loan requirements allow.
Q. How are yearly distribution payments made?
A. Upon approval of the Board of Directors, qualifying distribution payments of active service accounts occur through billing credit up to $500, and by check if over $500. Inactive service accounts are paid by check if the balance is over $25. (If not, the balance rolls into the next year's approved yearly distribution payment.)
Q. What happens in case of death?
A. A representative of the deceased member should contact the business office.
For single membership, capital credits are payable to the estate at the time of member death.
For joint membership, capital credits are payable only when both members are deceased. If there is a surviving member, a change in the membership name must be made to ensure that future capital credits can be paid to the surviving spouse/member. In this instance, the only documentation required is a copy of the death certificate for the deceased. If there are no surviving members, the following forms will need to be submitted.
Q. How are capital credits paid in case of death?
A. The estate has two options: 1) choose a discounted one-time present-day value payout, or 2) transfer 100% of the allocation to another person(s) and continue to receive disbursements as authorized by the Board of Directors. Direct deposit to a checking or saving account is available.
Q. How long does it take for payment of an estate?
A. Once all required documents are received, estate payments are usually processed within 60 days.
Q. What happens if a business dissolves?
A. Depending on the type of business, and upon Board approval, capital credits can be paid following a one-year waiting period. The member/owner should contact the business office.
Sole Proprietorship: If the member/owner is still living, the capital credits will transfer to the individual. If the member/owner is deceased, payment can be made after the waiting period, following single membership options.
Corporations: Capital credits will be paid following the waiting period, and after proper documentation of corporation dissolution is provided.
Q. What happens in case of divorce?
A. Checks are made payable to the person whose name is on the membership account, regardless of who pays the bill. Members must notify Nex-Tech and provide supporting documentation on how to divide the capital credits.
Q. What happens in case of marriage?
A. If a name change is required due to marriage, please contact the business office.
Capital Credits
UNCLAIMED CAPITAL CREDITS
When former customers move from the area and do not leave a forwarding address, capital credit distributions are often returned as undeliverable. If you believe you have unpaid capital credits, please submit an inquiry using the form below or call us at 877-567-7872.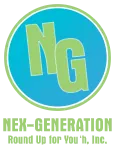 If you would like to contribute to the youth of northwest and north central Kansas, outstanding capital credit distributions can be donated to Nex-Generation Round Up for Youth (NGRUFY).